Maren Morris Reveals The Vulnerable Story Behind New Song "Girl"
The time has finally come. New music from Maren Morris has officially arrived! The country singer/songwriter has shared her first single of 2019, "Girl," which follows her chart-topping smash hit "The Middle" with Zedd and Grey and her 2016 debut album Hero.
"Girl" is the first taste of Morris's upcoming second full-length studio album, and hits radio airwaves almost three years to the day from when her debut single, the now double Platinum "My Church," arrived at country radio. Maren co-wrote "Girl" almost a year ago in Los Angeles with Sarah Aarons (who co-wrote "The Middle") and hit-maker Greg Kurstin, with Kurstin also serving as producer. She explains to iHeartRadio of the story behind new single:
"I was just in such a weird head space that day, because I was closing in on the last few songs of my album. And I really had this thing to say, which was to another girl that I know, and me sort of addressing our grievances against each other, I guess, or like inner competition. And I realized I didn't want to make it a preachy song, and I realized that I was actually not writing to another girl, I was writing to myself; which was a hard pill to swallow when I'm like, 'Oh no, you're this way. Not the other person. You're the reason you're having this issues, 'cause you are really negatively breaking yourself down every day.' And it's hard to not let criticism affect you, but the inner critic is the loudest, always. So, it really is just a song born out of self realization and acceptance that none of us are perfect. We're all a little cooky, and screwed up, and that's okay. There's sort of, like, catharsis in knowing that everyone is like that. And so this song is really an anthem for people that are going through that, and I know it's called 'Girl,' but it really is a song addressed to myself, and everyone that is just going through the human experience of sometimes days suck, and you don't like yourself; and there's a line in it where it's like 'I don't like myself right now.' And that was a really hard, honest thing to put down into words. But, the end of the chorus is saying like 'Everyone's going to be okay.' I think that was what I needed to hear that day, and I'm hoping everyone else in the world right now needs to hear it too."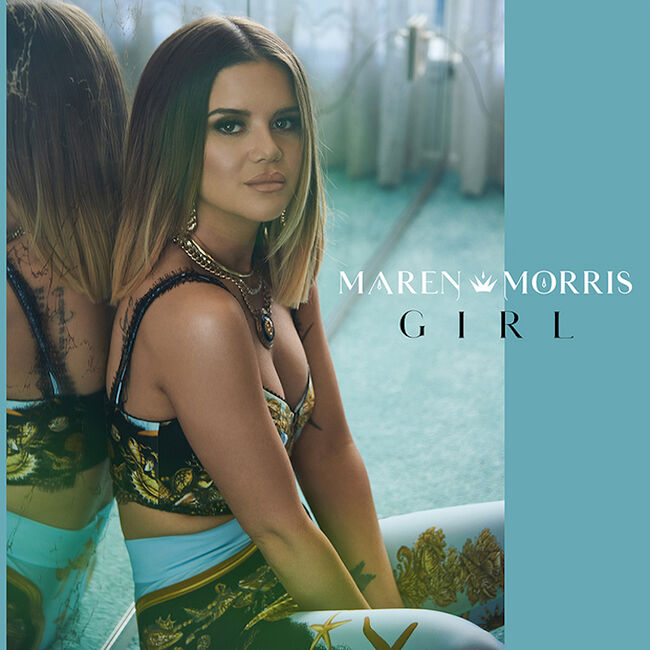 Maren teased the song on social media before its official debut by telling her fans how excited she was to finally be releasing the new track. She wrote, "I've been dying to share this with you all for forever & a damn day."
Morris tells us of getting to release her new music, "It's been long overdue. I remember putting 'My Church' out three years ago, and that was the start of something so beautiful, and I have had such a crazy ride with this one album cycle. But, it's definitely time to put new music out and show the perspective of me three years later. I'm a very different person in a lot of ways, but especially in the fact that, I have written way more love songs, and I want people to get to know that side of me that's a little softer and more readily vulnerable."
Coming off of an already huge 2018 with the success of her "The Middle" collab with Zedd and Grey, 2019 looks like it will also be an incredible year for Morris as she gears up to release the followup to Hero. The country star is also up for five Grammy awards next month as she is nominated for Record of the Year and Best Pop Duo/Group Performance for "The Middle," Best Country Solo Performance for "Mona Lisas and Mad Hatters," as well as Best Country Song and Best Country Duo/Group Performance for "Dear Hate" featuring Vince Gill.
Maren is also up for several iHeartRadio Music Awards in March. She is nominated for Song of the Year, Best Collaboration and Dance Song of the Year for "The Middle," and Country Song of the Year for "Rich." Fans can tune in to FOX on March 14th to watch the awards live.
Morris will also be heading out on her headlining "Girl" World Tour, which kicks off on March 9th in Chicago and take her through major cities across the country, finishing up the North American leg on May 11th in Detroit before moving on to Europe. Maren is also making it an all "Girl" tour (literally) as she brings along Cassadee Pope and RaeLynn as supporting acts. See a full list of tour dates below.
Maren Morris 2019 "Girl" World Tour Dates
March 9 – Chicago, IL @ Riviera Theatre
March 13 – Nashville, TN @ Ryman Auditorium
March 15 – Kansas City, MO @ Arvest Bank Theatre at the Midland
March 16 – Oklahoma City, OK @ The Criterion
March 18 – Denver, CO @ Fillmore Auditorium
March 19 – Salt Lake City, UT @ The Union
March 21 – Portland, OR @ Crystal Ballroom
March 23 – Seattle, WA @ Showbox SoDo
March 26 – San Francisco, CA @ The Masonic
March 28 – Anaheim, CA @ House of Blues Anaheim
March 30 – Los Angeles, CA @ The Wiltern
April 11 – Atlanta, GA @ Coca-Cola Roxy
April 18 – Houston, TX @ Revention Music Center
April 19 – Dallas, TX @ Bomb Factory
April 20 – New Braunfels, TX @ Whitewater Amphitheatre
April 25 – Pittsburgh, PA @ Stage AE
April 26 – Philadelphia, PA @ The Fillmore
April 27 – Boston, MA @ House of Blues
May 2 – Washington, DC @ Anthem
May 3 – Brooklyn, NY @ Brooklyn Steel
May 4 – New York, NY @ Terminal 5
May 9 – St. Louis, MO @ The Pageant
May 10 – Indianapolis, IN @ Egyptian Room at Old National Centre
May 11 – Detroit, MI @ The Fillmore Detroit
May 17 – Berlin, Germany @ Columbia Theatre
May 18 – Cologne, Germany @ Kantine
May 19 – Zurich, Switzerland @ Mascotte
May 21 – Hamburg, Germany @ Gruenspan
May 22 – Amsterdam, Netherlands @ Paradiso
May 24 – Dublin, Ireland @ The Academy
May 25 – Leeds, U.K. @ O2 Academy Leeds
May 26 – Glasgow, U.K. @ O2 Academy Glasgow
May 27 – Manchester, U.K. @ Albert Hall
May 29 – Bristol, U.K. @ O2 Academy Bristol
May 30 – Birmingham, U.K. @ O2 Institute
May 31 – London, U.K. @ Royal Albert Hall
August 16 – Auckland, New Zealand @ The Logan Campbell Centre
August 17 – Christchurch, New Zealand @ Town Hall
August 19 – Brisbane, Australia @ Brisbane City Hall
August 21 – Melbourne, Australia @ Forum Theatre
August 22 – Sydney, Australia @ Enmore Theatre
August 23 – Canberra, Australia @ UC Refectory