CMT's Artist of the Year Celebrates Women In Country Music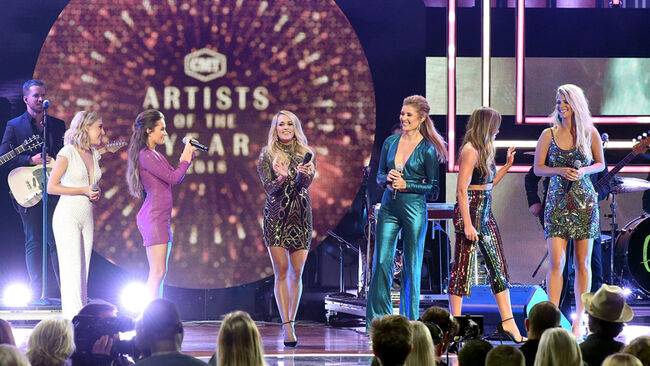 Several of country music's top female artists were honored during CMT's Artists of the Year live special on Wednesday night (October 17th), including Carrie Underwood, Little Big Town's Karen Fairchild and Kimberly Schlapman, as well as Miranda Lambert, Maren Morris, Lady Antebellum's Hillary Scott and the Artist of a Lifetime recipient Loretta Lynn.
LBT's Phillip Sweet and Jimi Westbrook honored their bandmates Karen Fairchild and Kimberly Schlapman. The two ladies then were joined by the legendary Gladys Knight for "I Can't Make You Love Me" and "Help Me Make It Through the Night."
Keith Urban celebrated his friend and "The Fighter" duet partner Carrie Underwood, before she hit the stage with her 2019 Cry Pretty Tour 360 opening acts Maddie & Tae and Runaway June with an all-woman medley hailing those who paved the way. The songs they performed include Tammy Wynette's "Stand By Your Man," Dolly Parton's "9 to 5," The Judds' "Rockin' with the Rhythm of the Rain," Martina McBride's "Independence Day," Faith Hill's "Wild One," Reba's "Why Haven't I Heard From You" and Shania Twain's "Man! I Feel Like a Woman," before launching into her recent smash hit, "Cry Pretty."
Carrie thanked all of the women in the country music industry she called "the backbone of this music" as she accepted her trophy, as well as praised all of the women artists. "To all of the incredible, amazing, talented women that have been on this stage tonight, you are not here because you are women. You are here because you are dang good. And it is an honor to get to share tonight with you."
Little Big Town's Kimberly and Karen were overwhelmed in accepting their award and helped shine a light on all of the newer female artists who "are available" to be played on the radio by reading out all of their names during their speech.
Dierks Bentley, along with Sheryl Crow, performed "Louisiana Woman, Mississippi Man" in tribute to Loretta Lynn.
One of the coolest moments of the night was when Oscar-winning actress Sissy Spacek, who portrayed Loretta Lynn in the iconic film Coal Miner's Daughter, accepted the Artist of a Lifetime award for the Country Music Hall of Famer who was at home feeling under the weather. She praised their decades-long friendship and was visibly emotional when she talked about her "sister."
The CMT special will re-air multiple times beginning Friday (October 19th) at 1:30am ET and 7:30am ET, as well as various times over the weekend.